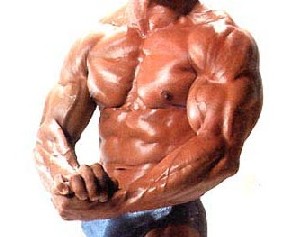 Home of Real Hardcore Natural Bodybuilding
FREE Natural Bodybuilding ebook
Learn The Secrets To Building
Massive Muscles Without Steroids!
Enter your first name and a valid email address
for free instant access to the muscle muscle gain ebook.

My Natural Bodybuilder Homepage
With all the information and misinformation out there regarding working out and eating right, it's easy to become frustrated due to lack of results. The lack of results is usually because there's a problem with your workout routine or nutrition plan. Personal trainers can be expensive, regardless of how good they are. I realize not everyone has the money to hire one. This site is my way of offering my knowledge to whomever wants it. I've been working out for over 25 years, and I'm also a personal trainer. I didn't become a personal trainer to make money and get rich. The pay was nice, but I enjoy helping people for free. I trained people because it's something I really enjoy doing. I love to help people look and feel great about themselves. By coming to my site, all I ask of you is to go out and try what you learn here. Any advice and information you learn is worthless unless you apply it.
I started working out at 16 years old. I weighed in at 145 pounds at 5'5" tall. My frame was small, but I had a high level of bodyfat. The first year of working out, I lost weight getting down to 125 and looking defined. It wasn't until a few years down the road, when I began to eat more that I gained some good muscular bodyweight.
I've weighed as high as 200, but now tend to stay at a more comfortable 175. I've worked out 6 days a week, and I've worked out once a week. I tend to go through cycles of trying different routine and diets.
My workout page and nutrition page are current with what I am doing at all times. When I change something there, I update those pages accordingly.
Free Natural Bodybuilder Mag
Dedicated to the hardcore natural bodybuilder. We take an in-depth look at nutrition and exercise routines. Our natural bodybuilding tips will help keep you motivated. Motivation and Discipline is the key to all success!
Also when you sign up for our free magazine, you will be automatically entered in my monthly drawing to win free natural bodybuilding supplements and other great prizes.
Click Here To Subscribe To
Free Natural Bodybuilding Magazine
© 1998-2017 RealBodybuilding.com