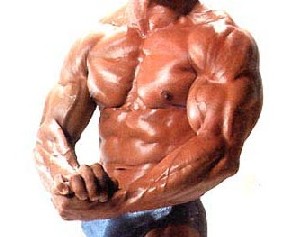 Home of Real Hardcore Natural Bodybuilding
FREE Natural Bodybuilding ebook
Learn The Secrets To Building
Massive Muscles Without Steroids!
Enter your first name and a valid email address
for free instant access to the muscle muscle gain ebook.

My Natural Bodybuilding Nutrition Diet
This is what works for me, given my schedule and so forth. Obviously you can gain muscle and lose fat faster by eating more strict, smaller portions, with no seasonings, starchy carbs, etc. But remember, I'm not here to teach you how to eat perfectly for 12 weeks to get into shape. This is how I eat every day so that I can stay in shape always.
If you need to lose weight faster, by all means be more strict. I've eaten more strict at times to lose fat faster. But this plan below is something that you can use for the rest of your life. You can eat this and lose fat and keep it off. The problem with most diets is that they are so restrictive, that you fail due to cravings, or you succeed, but are so deprived, that you pig out after words and gain it back. I'm trying to promote a healthy lifestyle. That's the real key, losing weight and keeping it off for life. Plain grilled chicken, brown rice and veggies 4-5 times a day may bring you quicker results, but if you have to eat that for the rest of your life, it will get pretty boring and quite hard if you ask me.
Breakfast (6:30 AM)- Bowl of oat meal and 1.5 scoops of whey protein powder in a glass of water.
Snack (10:00 AM)- Protein Bar.
Lunch (1:00 PM)- Turkey sandiwich with fat free cheese on wheat bread, fat free yogurt, and carrots.
After-workout dinner (6:30 PM)- 8 oz. grilled chicken breast seasoned various ways (Shake & Bake, marinated in fat-free Italian dressing, barbequed, covered with tomato sauce, etc.) with a serving of rice pilaf, pasta, broccoli, or a salad..
I try to vary it up, so I'm eating something a little different every day, but it's based on what you see above. Keep in mind, you can substitute chicken with lean beef, tuna, egg whites, turkey breast, etc. Also you can substitute the rice or pasta with potatoes, sweet potatoes, low sodium bread, oatmeal, yams, etc. Any and all veggies are fine, either with your meals, on sandwiches, in salads, etc. Vary it up to avoid getting bored. The key is finding new and creative ways to season and flavor your foods.
You'll notice as far as protein goes, the only time I don't eat real food is for breakfast. I believe that 100% real food is the way to go. The only reason I have protein powder with breakfast is because I cannot stomach any sort of protein (egg whites, chicken, etc.) that early in the morning.
As far as "cheat meals", I try to limit myself to one cheat meal a week, where I eat whatever I want, within reason. The idea isn't to gorge yourself on food until you are sick, but rather to satisfy a craving for something. You'll also find it will kickstart your metabolism.
Free Natural Bodybuilding Fitness Magazine
Dedicated to the hardcore natural bodybuilder. We take an in-depth look at nutrition and exercise routines. Our natural bodybuilding tips will help keep you motivated. Motivation and Discipline is the key to all success!
Also when you sign up for our free magazine, you will be automatically entered in my monthly drawing to win free natural bodybuilding supplements and other great prizes.
Click Here To Subscribe To
Free Natural Bodybuilding Magazine
© 1998-2017 RealBodybuilding.com